My Story…Wilfred "Will" E. Blessing
…shared with Anji Grasso
Most of us have had a "what the hay" moment, but when the word came over the loudspeaker that the Japanese had attacked Pearl Harbor, it was truly a "what the Hell" moment.
I had joined the Navy on March 11, 1941, on a minority cruise, and was on the Ferry to Coronado from San Diego. There were lots of us having one of those movie slow motion moments when time froze. Whatever was said was surely unprintable here. But it was total shock.
I was born in Santa Barbara, CA, in July of 1923. And as my Dad died when I was 7, was primarily raised in Santa Cruz by my Mom. Growing up, I was a water person, into naval history and aspired to go to The Naval Academy. However, with money tight, simply graduating high school and getting a job was the priority. So, I joined the Navy.
By the time we were hit at Pearl, I'd attained PO2c (Petty Officer 2nd Class), and although I had neither college nor the financial wherewithal to attend the Naval Academy, I volunteered for the Naval Aviation Cadet Program from the fleet. It was October 1942 when a program was available for which I qualified. I applied and was accepted as an Aviation Cadet from the fleet. It was a GREAT opportunity!
Naval Aviator Experience
Commissioned Ensign, Naval Aviator, in June 1943, I was assigned as an instrument flight Instructor. I trained over 300 cadets and officers including 45 from Latin American countries. And after doing that for about a year and a half, was assigned to VR11, a Transport/Evacuation squadron, based in Hawaii.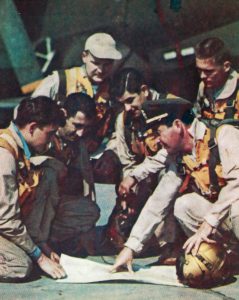 Pearl Harbor had been a mess with wreckage everywhere. After all, there had been four battleships and 11 other ships sunk. But here, two years later, the Herculean efforts of seamen, engineers, divers, carpenters, welders, pipe fitters and other industrial workers at Pearl Harbor raised or salvaged all the damaged ships except the Arizona and the Utah. There was a feeling of optimism, a need to set things right. A need to honor the memory of 2,343 lost comrades.
Operating in the South Pacific, Guam, Guadalcanal, Okinawa, the Philippines, the Marianas and Solomon Islands we flew in supplies and evacuated wounded as soon as the Marines took an island. Fortunately for me and my crew, we only came under random fire. The old four engine C54 Skymaster was a workhorse and a joy to fly. But neither she, nor the crew, equipped only with side-arms, was in any position to fire back. I ran with that until the war ended.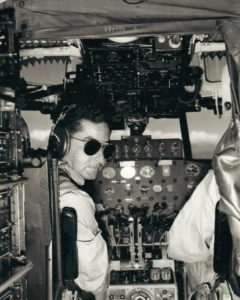 Coming Home after WWII
I think anyone who has been in a war situation will tell you that coming home is the only important thing. But once you've made it and get over the initial relief, have some good home cooking, and a couple of weeks of uninterrupted sleep, it's all about, "So what do I do now?"
Fortunately, I had that covered. With engineering and artistic skills, knowing school and on-the-job training would take several years, I was determined to become an architect. The GI Bill helped me get into U.C. Berkeley, and I achieved my goal, graduating with a B.A. and M.A. in Architecture. I also became a commercial pilot. My Commercial "ticket" listed qualifications "commercial, land and sea, single and multi-engine, jet, with instrument." Happily, I got to fly single and multi-engine aircraft across the U.S., Canada, Mexico, and Bermuda. Then came Korea.
Return to Active Duty
I was recalled to active duty in 1953 at age 30. By now I was married, so the prospect of being involved in another war had different meaning. But I was a Naval Aviator. It was what I was trained for. They assigned me as Patrol Plane Commander in a long-range patrol squadron specializing in mining and anti-submarine warfare. I was attached to Operation Castle in the Marshall Islands, where I saw all the testing of thermo-nuclear weapons. Seeing the awesome power of these weapons on TV is one thing. But being there, seeing that mushroom cloud, the sun-like brightness, the explosion and percussive effect, understanding the obscenity of its destructive power, is entirely different. Some images are imprinted into your soul and stay with you forever.
Upon release from active duty, I was assigned as the Executive Officer of VP875 (fixed wing patrol squadron), and after a year became Commanding Officer. During that time, I participated with the fleet on an anti-submarine exercise and consulted with Comfairpac (Commander Fleet Air Pacific) on integration of Reserve and Fleet Forces. I commanded a duty mining squadron on cruise to the Mediterranean, stationed in Port Lyaute, Morocco. After that, I was promoted to Captain and served with the Captains Administrative Group at Alameda Naval Air Station. We sent teams of captains, with experience in myriad specialties to various commands studying, evaluating and advising in operations and physical resources.
A Great Career
I served 33 1/2 years active duty and reserve, and the Navy was a defining element of my life. I owe it a great deal for the training and experiences. And besides…they let me fly their pretty airplanes…land and sea, single and multi-engine with jets.
I applied to join Honor Flight AZ to travel, hoping I might meet some aviators with similar experiences. I also wanted very much to see our memorials in Washington. Any apprehension I may have had about flying at 92 dissipated the minute I arrived at Sky Harbor. The guys and gals there were running a well-oiled and exceptionally empathetic machine. Many thanks for the Honor Flight experience…it was SUPER!