Honor Flight Arizona Prepares to Fly Again!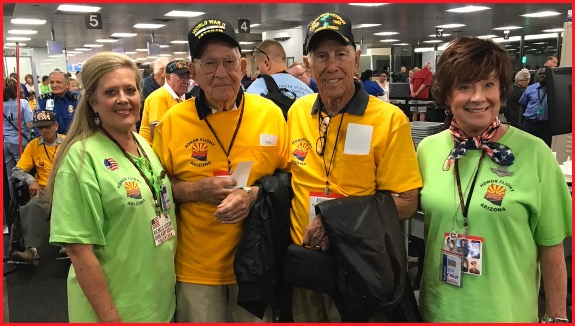 After more than 1 1/2 years of inactivity brought on due to health concerns necessitated by the COVID-19 virus, the board of directors of Honor Flight Arizona is excited to announce that we will be flying again in Spring 2022. The board has recently developed a list of tentative departure dates for the first half of our 2022 season. The five official dates will be posted on the Honor Flight Arizona website and Facebook pages as soon as all trip details, including air, are confirmed. Watch for those details soon!
A Very Important Note Regarding Future Honor Flight Arizona Flights
Although we anticipate a return to our flights from Phoenix in March, 2022, there is always the possibility that future COVID-19 developments might dictate further delays. All national Honor Flight hubs are bound by the decisions of the Honor Flight National Board of Directors. Should any new COVID-19 developments lead to further caution, we will be notified and will be obligated to follow the National Board's instructions regarding future trips. If further delays and/or restrictions are implemented, we would announce those details immediately.
When Will Veterans be Notified?
It is customary for Honor Flight Arizona to notify waiting Veterans of their trip date approximately two months prior to departure. The initial contact is always accomplished by a phone call. If for some reason the Veteran cannot participate on the selected date they will always be accommodated on a later trip date. Anyone who was on the waitlist before flights were suspended remains on the waitlist in the order the application was submitted.