Honor Flight Arizona Founder Retires From the Board
by Rick Hardina, Honor Flight AZ President
Susan Howe, the founder of Honor Flight Arizona, recently announced that she will be retiring from the Board of Directors of the non-profit Veterans organization. For although she intends to remain active with the organization, she will scale-back her participation in order to spend more time with husband, Richard Howe, who recently retired after many years of work in the television industry. Susan had earlier retired from the medical field. They will also enjoy spending time with their ten grandchildren.
Susan first heard about the Honor Flight program in 2008 from a friend whose father from Iowa had traveled free-of-charge on a one-day visit to the World War II Memorial in Washington D.C. The story of the journey excited Susan and motivated her to learn more, knowing that her own father was a World War II Veteran who had served on seven bombing missions as a gunner aboard B-24 aircraft in the Pacific.
The next step for Susan was to contact Earl Morse, a physician's assistant and retired Air Force captain who co-founded the Honor Flight program along with Jeff Miller in 2005. The very first Honor Flight took place in May of 2005 aboard six small planes that flew 12 World War II Veterans to their memorial in Washington, D.C. By the end of that same year, 137 World War II Veterans had already participated in the non-profit program.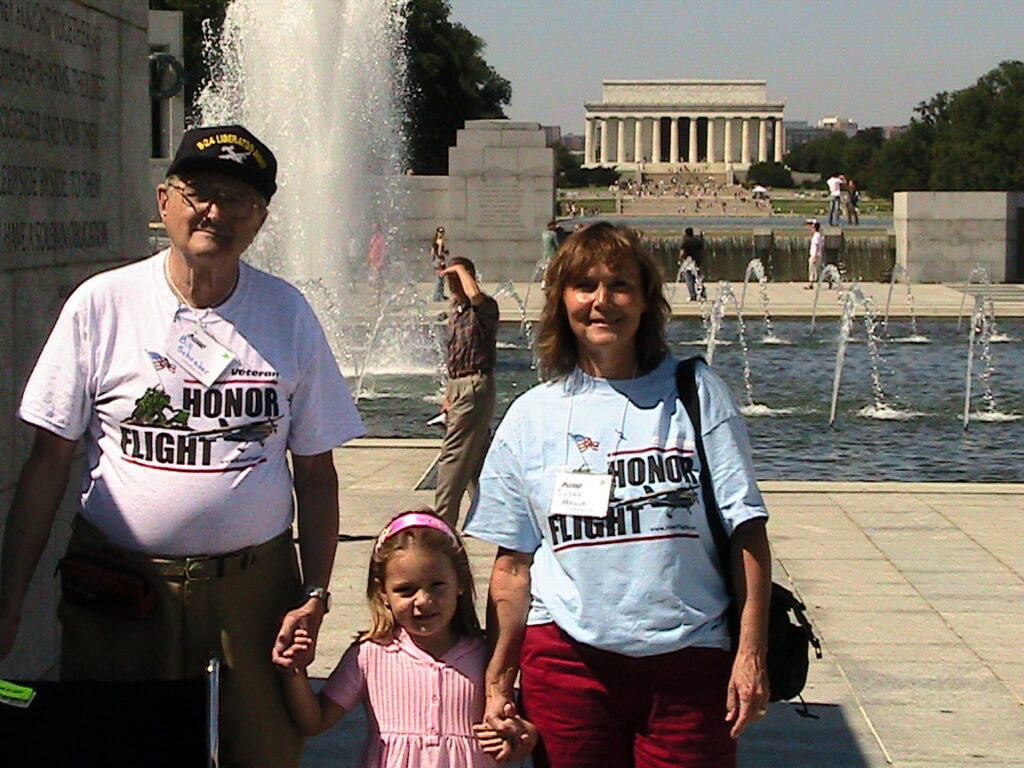 Morse advised Susan to meet with two Honor Flight representatives who would be coming to the West Coast. She did, and the rest is history. Phoenix, Arizona would soon join Spokane, Washington as the first two Honor Flight hubs operating west of the Mississippi.
Recruiting a few very reliable friends, and acknowledging herself as "virtually clueless" of the challenges ahead, Susan persevered and organized the very first Honor Flight to depart from Phoenix Sky Harbor Airport in November of 2009.
Just 11 WWII Veterans participated in that very first Arizona flight, but the "spark was lit" and as a tribute to Susan's ever-increasing level of enthusiasm and hundreds and hundreds of hours of dedicated hard work, the Honor Flight Arizona program would flourish and grow during the coming years.
To date, the non-profit Honor Flight Arizona organization of volunteers and board members has funded, organized and completed more than 80 flights to Washington, D.C. That same entire group now looks forward to the day in the near future when it celebrates the 100th flight departure from Phoenix Sky Harbor Airport.
Thank you, Susan, for your love of all Veterans and for a truly amazing level of perseverance that has seen Honor Flight Arizona prosper and grow throughout the years.
You are now, and always will be "the heart and soul" of Honor Flight Arizona as we continue to fly Veterans to Washington D.C. for their journey of thanks and remembrance! Enjoy, with Rich, your well-deserved retirement!